Join our Virtual Power Plant and support the WA community
When you join our Virtual Power Plant (VPP), you won't just be financially rewarded, you'll help accelerate WA's transition to a clean energy future. And you'll be helping prevent blackouts for thousands of homes. Sound good? Read on to find out why you have nothing to lose and everything to gain by joining the Plico VPP.
Our VPP is the first of its kind in Western Australia, and its's growing rapidly. We now have 1500 Plico households signed up – that's over 14 MWh in battery storage. Our community of solar + battery systems is like one mini power plant, providing essential services to the grid when required. And our members are loving the financial rewards they get for being involved.
Now we're inviting you to be part of the future too.
Here's a rundown of what's included:
No sign up or ongoing fees

System monitored by Plico at no cost

45c/kWh when battery is discharged (45% more than what you'll pay)
No worse off - ever

Opt out at any time
You're already an important part of our clean energy future. Now you can further support the grid and earn bonus cash by being part of the VPP.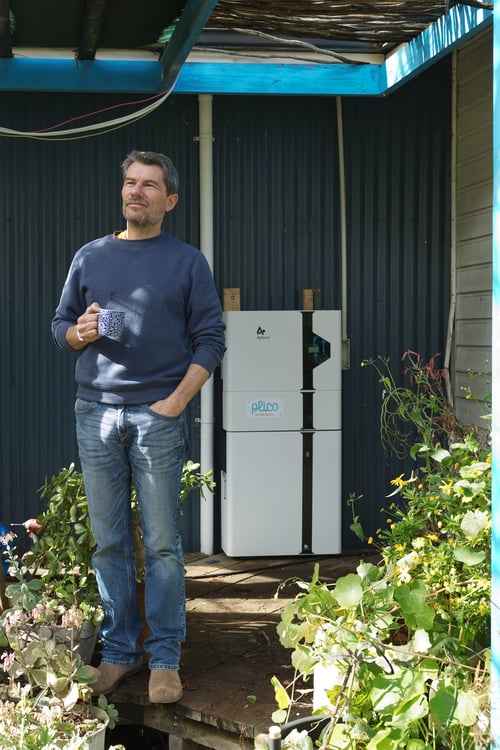 What do I need to do to be involved?
Please register your interest to be part of the VPP. We will send you a contract to sign, however you can opt out at any time. We also ask that you always keep your inverter online so that we can manage your system and include it in the VPP. We will also monitor your system's performance and let you know if there are any concerns.
It's also important that you keep your contact details up to date so we can let you know when the VPP is being activated.
Register your interest below
What is a Virtual Power Plant?
A Virtual Power Plant (VPP) is a network of distributed energy resources (DER), in our case household solar + battery and battery-only systems, that is managed remotely to generate, store and transfer energy to and from the grid. VPPs can provide energy almost instantly when required to provide additional capacity or manage supply and demand to help stabilise the grid.
You can find out more about VPPs here What is a Virtual Power Plant (VPP)? | Plico Energy
How does the Plico VPP support the grid?
In WA's first VPP activation ever, the Plico VPP provided additional capacity to the grid to meet a shortfall in energy supply under a peak demand scenario. The VPP was activated on two occasions in early 2023 and Plico members were paid double their costs for energy and received a generous bonus payment.
This was the first of many activations of the Plico VPP.
In addition to providing peak demand services for the grid, the VPP can also be used to support minimum demand. This occurs when energy supply to the grid is high and demand from the grid is low. The diagrams below show the two different scenarios and how the VPP responds.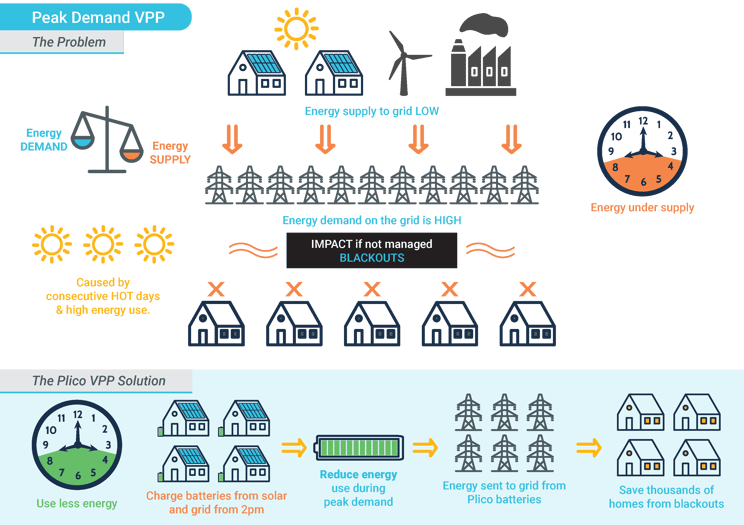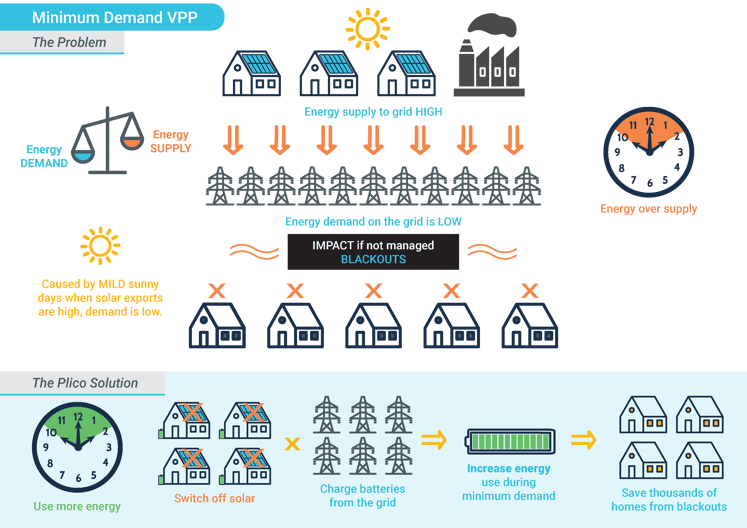 The VPP may also be utilised to provide voltage and frequency services to the grid. Again, members of the VPP will be compensated generously under any VPP activation.
Who is Plico?
We are a leading Western Australian clean energy company building a sustainable energy grid for the future. Our innovative membership model puts power back into the hands of the community, allowing our members to save money, enjoy blackout protection and generate their own clean energy, all for one low weekly fee.
We manage WA's only privately-owned VPP, allowing our members to be active participants in the energy market. Our members are rewarded financially for being part of the VPP, while helping support the WA community and our transition to clean energy.
Want to find out how it all began? Read more about the Plico story - Our Story | Revolutionising Energy in WA | Plico (plicoenergy.com.au)
WA born and bred
Plico was started in Dunsborough, WA and now is backed by an award-winning team. While we're focused in the short term on helping West Aussies transition to reliable, ongoing clean energy we have plans to expand throughout Australia (and one day, the world!)