Plico Virtual Power Plant
When you join Plico, you become part of WA's largest privately-owned Virtual Power Plant (VPP). You're supporting the grid and accelerating WA's transition to a clean energy future while helping prevent blackouts for thousands of homes. You also earn financial rewards just for being part of it.
With the Plico VPP, you're part of a community of clean energy change-makers!
Our VPP is the first of its kind in Western Australia, and its's growing rapidly. We now have over 1500 households signed up – that's over 14 MWh in battery storage. Our community of clean energy systems acts like one mini power plant, providing essential services to the grid when required. And just like any other energy provider, you get paid for providing these services.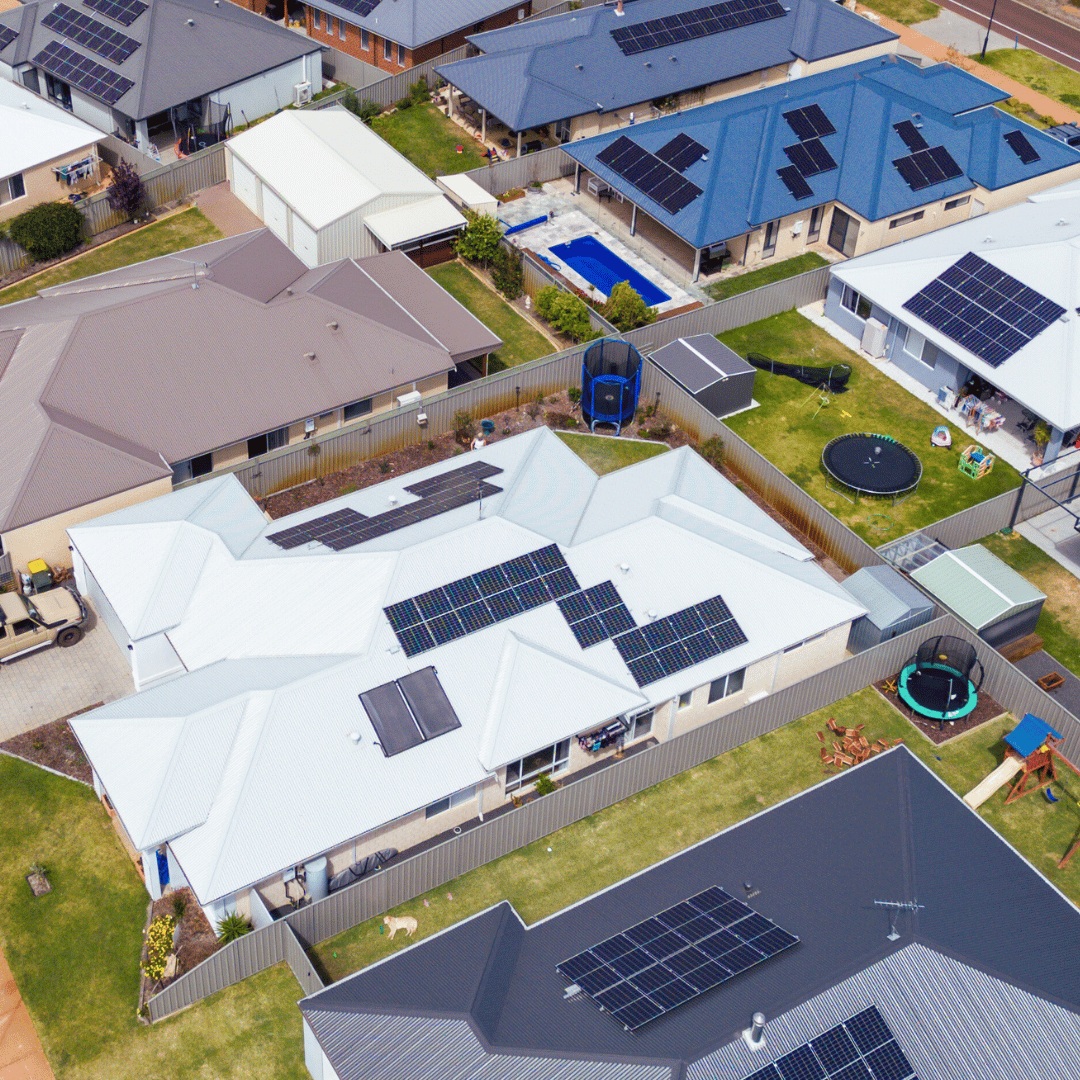 What is a Virtual Power Plant?
A Virtual Power Plant (VPP) is a network of distributed energy resources (DER), in our case household solar + battery and battery only systems, that is managed remotely to generate, store and transfer energy to and from the grid. VPPs can increase or decrease energy supply to the grid almost instantly, providing a flexible, cost-effective and clean energy solution to the support the grid.

You can find out more about VPPs here and how we're working together with Synergy to support the grid here.
How does the Plico VPP support the grid?
The Plico VPP can be managed to bring the grid back into balance under both minimum demand and peak demand scenarios.

When there is minimum demand, energy supply to the grid is high and energy demand on the grid is low. This can occur in the middle of mild sunny days when solar exports to the grid are high but there is low demand from homes, business and industry. Peak demand is when the oppositive occurs; energy supply to the grid is low and demand is high. This usually occurs on hot summer evenings when energy demand increases just as solar exports start to decrease.

Both minimum demand and peak demand create a high degree of fluctuation between supply and demand at varying times in a given day, and both scenarios can cause serious issues for maintaining grid stability.

The good news is that our VPP can help smooth out these fluctuations by managing supply and demand using our fleet of solar + battery and battery systems.

The table and diagrams below explain the key differences between minimum demand and peak demand, and what Plico members can do to help.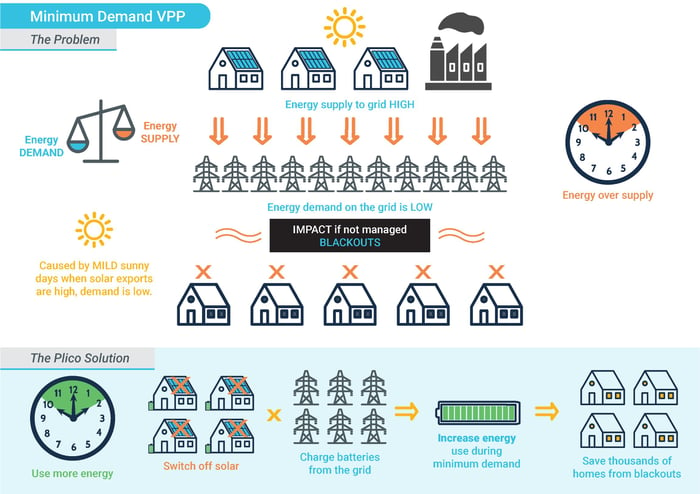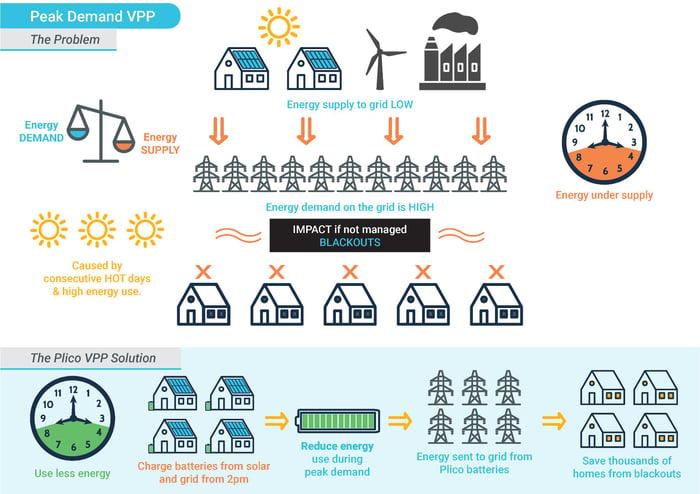 How do Plico members get rewarded?
Plico members receive financial rewards for being part of the VPP, as well as credits for their energy. This includes a once-off VPP Bonus and VPP credits for the VPP period from 1 October 2023 to 30 September 2024.
VPP Bonus - Plico members receive up to $100 for being part of the VPP over the next 12 months to September 2024.
VPP Credits - Plico members are credited for their energy when the VPP is activated to support the grid. These credits are either applied on Synergy bills or Plico member accounts.

Have questions about the Plico VPP? Contact us at hello@plicoenergy.com.au or sign up now to join WA's largest privately-owned VPP.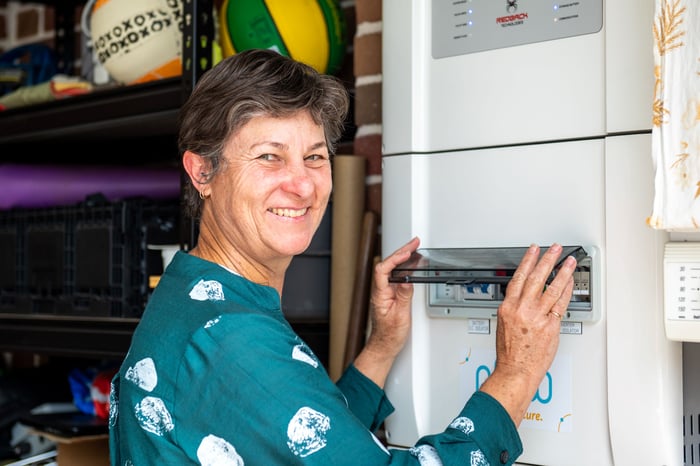 Want to know more about Plico's VPP?
Read our latest blogs to learn more about the Virtual Power Plant and how its benefitting the grid and Plico members.
WA born and bred
Plico was started in Dunsborough, WA and now is backed by an award-winning team. While we're focused in the short term on helping West Aussies transition to reliable, ongoing clean energy we have plans to expand throughout Australia (and one day, the world!)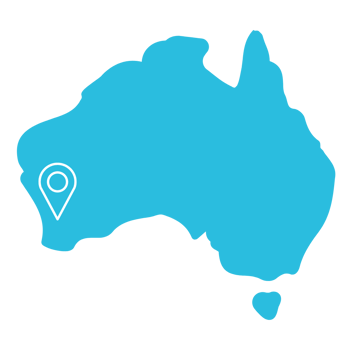 See how much our members save!
Community is at the heart of everything we do, and our Members are the heartbeat
There are a variety of reasons why Plico can work for you. But don't take our word for it...
Hear from some of our amazing Members below on why they chose to join the Plico community.
"I'm happy with a much lower bill, considering we're a family of seven. Plico makes it affordable to enter the renewable energy market, especially for those that almost live day by day financially. It's a great package."
"Plico has given me the freedom to live more comfortably by using the power I generate as much as I please and at any time of the day or night thanks to my battery. It's great knowing that the hot summer days aren't costing me anything and by powering my ACs all day, the sun is actually keeping me cool for once."
"Ease of onboarding solar and battery without up front capital costs. High levels of customer service at every step. Knowledgeable installer who paid great attention to detail and actually rectified a design issue before installation to ensure maximum efficiency."
"We're not only saving money, but feel we are playing a small part in reducing our carbon footprint."
"I love getting electricity 'bills' now. Our home solar is through Plico. We are now 97% independent from the grid. I can thoroughly recommend Plico Energy for their commitment to enabling low to middle income households access to renewable energy and for their genuine and caring customer service."
"Local people, local products, any problems easy to get hold of the team with a phone call or message. Great concept of payment. Design of system was great with options for 3 phase systems. Installation of final product looks really neat and tidy all contained neatly. I tell everyone I meet that is looking for solar to not go past this."
"Superb service all throughout the process."
"Fantastic product and service."
"Very easy stress-free and professional. Loved not having large outlay $$ But I especially like my new very low bill."
"Good people to deal with, no upfront costs and system is running well"
"We have had our system for about 3 months now and 100% love it. The Dashboard has not only increased our understanding of how we use electricity but is now changing our behaviour. Plus, we are saving money and reducing our footprint."
"We have hit a milestone.... for the past 7 days I have been 100% powered by our system and have still put nearly 200 kW back onto the grid. This is with a pool pump going 8 hours a day."