Plico members received a cash injection recently for being part of WA's first Virtual Power Plant (VPP). Plico members' solar and battery systems were orchestrated like one giant battery to provide additional energy to the grid during summer when it was most needed.
Almost 1000 Plico members received payments for having their batteries available to support the grid, in addition to payments for the energy they exported during grid events. Plico committed to passing on all the net revenue from the first activation of the VPP directly to members. On average, eligible Plico members who had their systems installed by December 2022 received $72 for being involved.
Plico member, Vanessa Squires of Wembley Downs, says she is happy to be supporting the wider community through the VPP.
"I truly believe a less centralised and more community-based energy source is quite powerful," said Vanessa.
"I joined Plico mostly to be self-sufficient, and the VPP is just a great bonus.
"This VPP sits wholeheartedly with what I believe is right and good for everyone. I'm very happy to be part of this," she said.
The two activations of the Plico VPP included a total four hours of energy export to the grid, causing minimal disruption to Plico members. To maximise the amount of energy that could be exported, members were asked to reduce their energy use during the activations, if it was safe to do so. Plico compensated members double the costs of their energy, and they were never without power to their homes.
Plico was contracted by the market operator to help keep WA's main electricity supply stable. The energy provided through Plico's VPP is equivalent to supporting more than 2000 households with their energy needs for two hours.
Plico was directed to activate its VPP on two occasions in January and February 2023. Plico members contributed a total of 9.2 MWh in grid support. This included 4.4 MWh in additional energy to the grid when it was most needed, between 5pm and 7pm, to balance supply and demand on the grid.
The Plico VPP is supported by Redback Technologies, creators of the innovative Smart Hybrid Inverter technology used in Plico systems, and Amp X who provides their proprietary VPP digital energy platform to enable monitoring, control and optimised dispatch of Plico systems. Plico is also proud to be integrating its fleet of Alpha ESS solar battery systems into the VPP this year.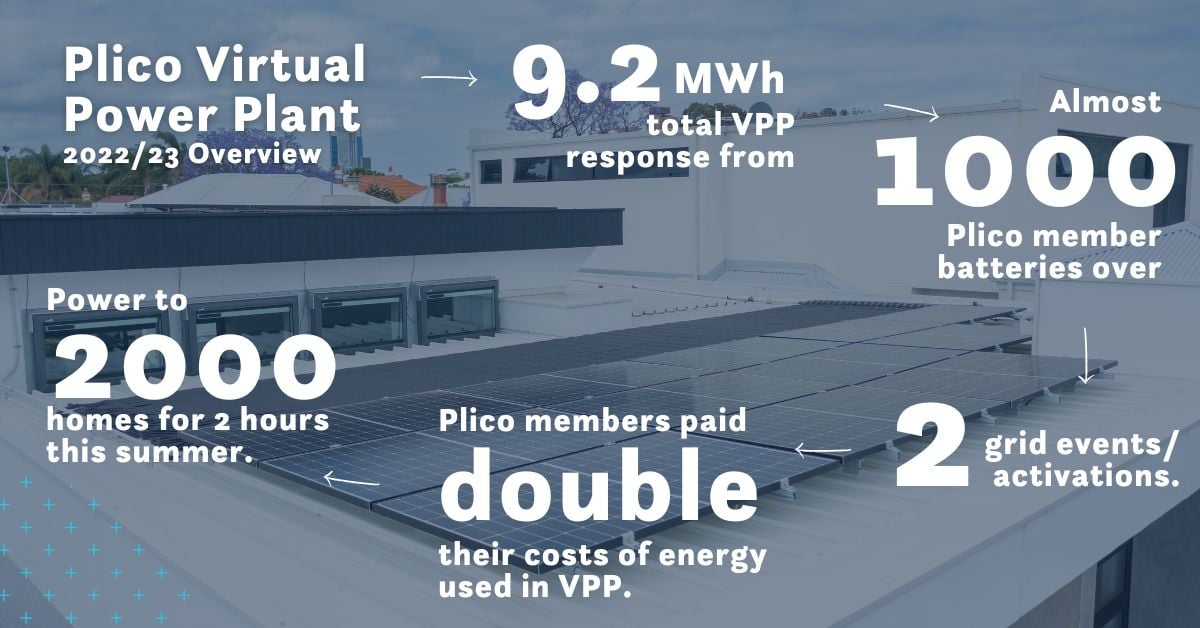 Have a question about solar + battery?