Plico is a leading Western Australian clean energy company building a sustainable energy grid for the future. Our innovative membership model puts power back into the hands of the community, allowing our members to save money, enjoy blackout protection and generate their own clean energy, all for one low weekly fee.
This unique offering has driven our growth across WA in just four short years. But the story behind the Plico name is less well known. Where did we come from? What do we stand for and what can we offer that no other clean energy company can? Well, you're about to find out. As a proud WA company, we're sharing our story with you, so you can see what the Plico movement is all about and get to know us a little better.
Who is behind Plico?
In 2017, a group of innovators got together to talk about how they could have a positive impact on climate change. Plico's two founding members, Brian Innes and Mike Kilcullen were the brainchildren behind the idea of a member-based, residential virtual power plant (VPP) that could benefit both the participants and the grid with a clean energy solution.
With a background in clean energy, they put together a unique community model that allowed people to run their homes on clean energy with a solar panel + battery system, in the coastal town of Dunsborough, WA. The model was brought to life as the Dunsborough Community Energy Project (DCEP) by Starling Energy Group, and was funded by Swiss sustainable investor SUSI Partners, who provided the capital investment for the project.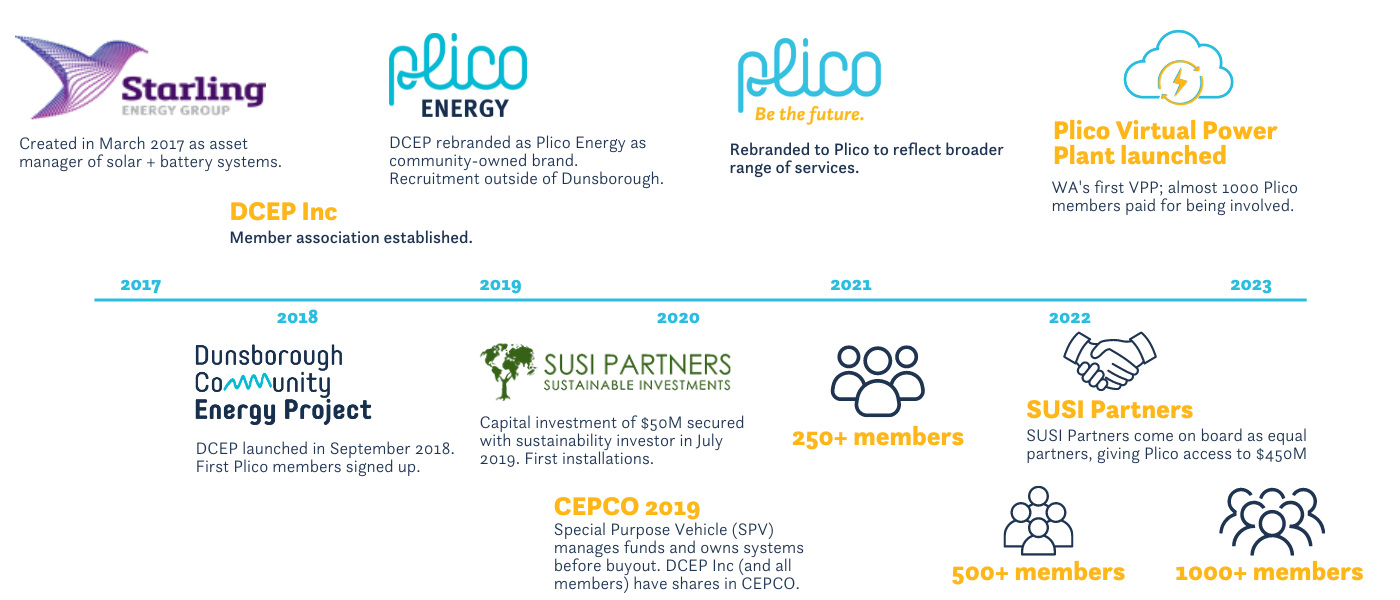 Plico timeline: Our story so far
Thus, WA's first VPP, and Australia's first 100% privately funded plant of its kind, was born! As the project expanded to neighbouring towns, it was rebranded to Plico Energy.
Plico is derived from the Latin word for 'link', which reflects our mission to build a community of connected clean energy systems under a VPP. Linking individual households and businesses in this way allows our community to have a greater impact on the planet and accelerate the clean energy transition in WA.
DCEP Inc remains the name of the association that all Plico members are part of, paying homage to our beginnings in the iconic coastal town.
The Plico community expanded quickly across WA from the first installations in Dunsborough, and as of 2023 Plico is now installing one in every four solar batteries in the state...and counting! In early 2023, we crossed the 1000-member threshold.
Plico has come a long way in four years. At the end of 2022, the VPP provided emergency power capacity to the grid during peak demand periods. Almost 1000 Plico systems, using cutting edge technology, acted as one giant battery to export energy to the WA grid on two occasions. In 2023, Plico is working together with Synergy to provide minimum demand services to the grid, further demonstrating how our VPP provides a clean energy solution that benefits the grid, the planet and Plico members.
Brian and Mike have stepped back from the day-to-day running of the business and now provide strategic oversight on our Board of Directors. They remain inspired by Plico's growing movement, supporting more and more Australians to take control of their energy and make a positive impact.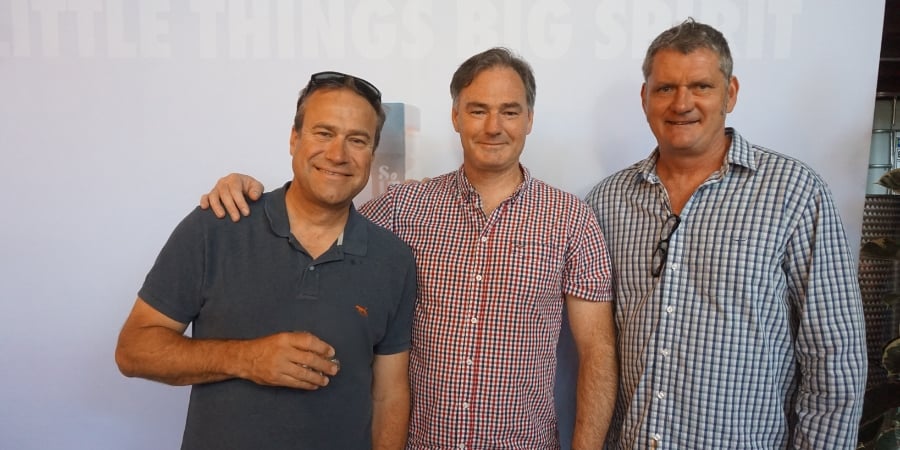 Plico CEO Robbie Campbell (middle) with Board Member Brian Innes and Chairman Peter Mann.
Why does Plico use a membership model?
Empowering everyday West Australians to accelerate the transition to clean energy is at the heart of everything we do. It's what gets us out of bed each morning. That's why we've created our award-winning, community energy business model – which ensures the benefits flow down to our amazing community.
The Dunsborough Community Energy Project - now Plico - was structured in a way to make solar + battery solutions affordable and accessible for as many people as possible. By eliminating installation fees and removing large upfront technology costs, Plico has designed a model to make reliable, renewable energy affordable.
The membership model allows Plico to install the cutting-edge technology and support members across a period of 10 years. At the end of the 10 years, Plico members can choose to own their systems outright and continue to benefit from 24/7 solar savings or renew their membership and upgrade their system.
Today, DCEP Inc is the not-for-profit association that all Plico members are part of. Our dedicated DCEP Committee represents the Plico community and drives our community impact and member support projects. Members who find themselves in financial difficulty have access to hardship support, and all members contribute to a Community Fund through their membership fees, which supports local environmental and community projects. This is just another way that Plico supports our members and the wider community.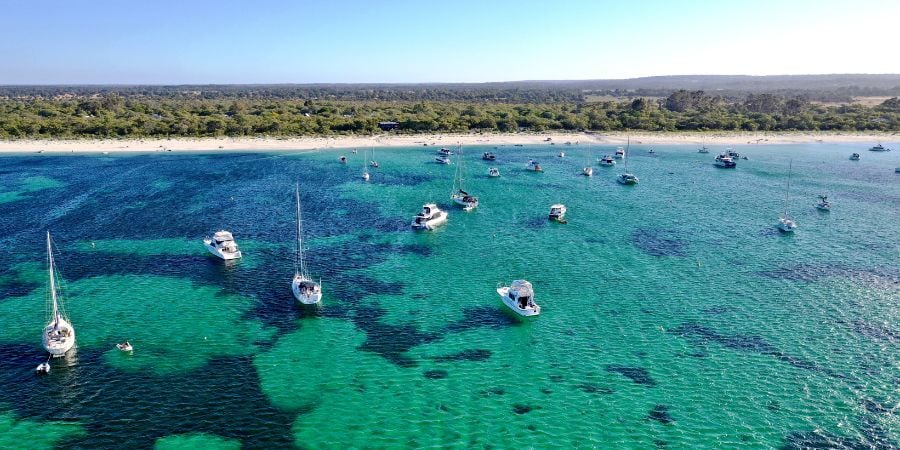 Geographe Bay, Dunsborough
Where is Plico based?
The Plico team is located primarily in WA, in Perth and the South West, as well as Victoria and the Philippines. Our switched-on team works across our Operations, Technology, Sales, Marketing, Finance and Administration departments.
In a serendipitous twist, the Perth team now works from the very same office in which the Plico model was conceptualised by the founders. True to the Plico values of innovation and flexibility, the dynamic workspace allows team members to work together in person or virtually. Plico's carbon footprint is also lowered by reducing the requirement for team members to travel to work, as many work remotely. Our modern and flexible approach to the workplace does not compromise the service we provide our members. In fact, it allows us to source the very best team possible!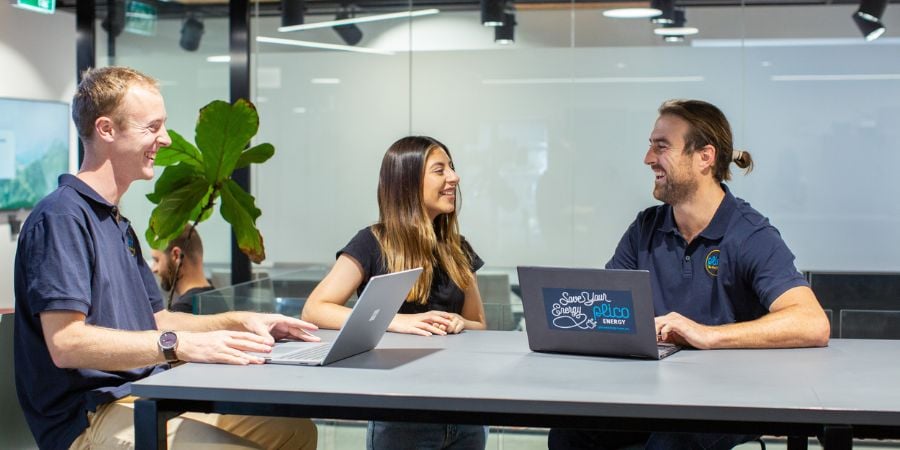 Plico Team Members Mitchell, Alana and Matt in the Perth office.
Why should I trust Plico?
As local West Australians, we know how confusing the solar industry can be. That's why our model was designed to be simple and supportive from the beginning.
In addition to the fact that Plico was started locally, we are also backed by our Swiss ethical investment partner, SUSI Partners. Their multi-million dollar investment shows both the investability of the project, and the longevity of the brand. In early 2022, SUSI Partners joined us as an equal partner and has committed to finance the further rollout of Plico systems over the coming years. The fund's evergreen structure is perfectly suited to provide permanent capital and supports our long-term strategy to expand across Western Australia and beyond.
Plus, we are demonstrating the value of our established fleet of solar + battery systems by collaborating with government, research institutions and industry in projects like Project Symphony and Race for 2030.
We also have an open and transparent approach to everything we do, including our sales and marketing. That means no pushy sales tactics, no dodgy installers, and a 100% solar cowboy-free zone! We're with our members for 10 years so building a positive relationship is paramount – and that begins with your very first interaction with us.
If you have any questions, our friendly team is always available for a chat. Simply give us a call on 1300 175 426 to find out more about Plico.
Or if you'd like to find out more about installing your own solar + battery solution and being part of the Plico community, we're happy to help. Not only will you be a part of a movement of local people powering the local community, but you'll also be able to access power during night times and blackouts too!
Book in your free no-obligation call now. You can view our different solar + battery or battery only systems or calculate your projected savings with our Savings Calculator. You can also get in touch with our switched-on team by calling 1300 175 426 to see how a solar + battery system can help you save.
Have a question about solar + battery?