The lights begin to flicker. Then it happens. You're plunged into dark, eerie silence. Your mind starts racing, wondering where you left your phone and if you have any candles. It's a blackout. Your home has just lost electrical power without warning. A power outage is a stressful, worrying and all-too-common problem that's threatening to get worse. The Australian Energy Market Operator has warned West Australians to brace for blackouts from 2022 unless we fix our state's energy issues.1 So what causes blackouts? Why are they on the rise? And why do we need to worry about them occurring more often?
Shedding light on blackouts
Vehicle collisions, animals dicing with electrical infrastructure and excavations causing a downed power line or underground cables are factors that have always been behind power outages. But we're increasingly being left in the dark because climate-related natural disasters are becoming more frequent and severe. Wild weather such as high winds, lightning and flooding can damage power lines and electricity poles. Extremely high temperatures cause electricity demand to skyrocket as we crank up our air conditioning units at home and at work to stay cool. This can overload the grid causing the power to fail. And when bushfires tear through the countryside, they devour electricity wires and poles in their path. Climate change and the blackouts they cause are set to continue. So we've put together a guide to help you before, during and after the lights go out.
Prepping for an outage
The best way to prepare for a blackout is to make sure you can avoid them entirely. For that, you'll need a backup electricity supply. A solar panel and battery system is your safe, clean, sustainable and seamless solution. When the power fails in your suburb, you'll be blissfully unaware while your neighbours without solar batteries will be frantically hunting for torches or pouring diesel into generators. Home solar batteries maintain a baseline supply of stored power, so you're always ready for the unexpected - especially important if you have life-support equipment in your home or even if you're charging your electric car with your solar panels. The Plico Energy battery is a smart system that can detect incoming storms and fully charge itself, letting you and your family withstand a longer power outage, too.
We explain more in our blog post about why a solar system with a battery is the best source of renewable energy for the home.
You can also learn more about the best solar battery for home users in Australia.
If you don't have a battery or are in the process of getting one, follow these steps to be blackout-ready.
1. Create a blackout emergency pack
Your blackout emergency kit should have a torch. Wind-up torches that don't include batteries are ideal. But if you have a battery-powered torch, be sure to check the batteries every few months and have some spares. Candles are a staple for power outages. While they provide light, they are a fire hazard. Battery-powered LED electric candles are your affordable, reliable and safer alternative. Include some blankets and warm clothing, and remember, if you have a wood-burning stove and a BBQ, you can use that for heating and cooking. Adding some power banks to recharge mobile phones and a battery-power radio will ensure you're not cut off from the outside world if the outage is prolonged. We recommend you have a first aid kit, some non-perishable food items and drinking water too.
2. Think about food safety
One of the biggest bugbears about blackouts is having to bin the entire contents of your fridge and freezer. Buying a fridge thermometer means you can check whether your chilled and frozen food items are safe to eat during and after the blackout.
3. Make a checklist
Sticking with the safety theme, we recommend drawing up a list of safety tasks to check off during and after the power outage. Be sure to include a pen or pencil to make this easier.
During the darkest hours
Whenever a blackout spells lights out for your home, reach for your emergency kit, grab your torch and start working through your safety checklist. Make a note of when the power went off. Then check if your home's electricity switchboard has tripped, or if the power outage is a grid failure, impacting a wider area. Switchboards and fuse boxes are often located outside the house, for example, on an exterior wall or in a garage. Scan the area, before you venture beyond your front door. Watch out for fallen powerlines or other hazards that may have caused the blackout in the first place. Switch off any appliances that give off heat, but leave a light on so you know when your power returns. We recommend switching off any computers, TVs and gaming consoles at the wall too. This will guard against damage from a power surge. Use your battery-powered radio and mobile phone to check for updates on the blackout. Make good use of the items in your blackout emergency pack to stay comfortable while you wait out the power pause.
Let there be light
Once the power returns, your fridge thermometer will come into its own. Use it to check the temperature of your chilled foods. According to the Food Safety Information Council, provisions that have been stored in an unpowered fridge for less than two hours are still safe to eat. But food stored in your fridge above 5°C for longer than four hours needs to be binned. If your freezer is efficient and in good condition, it will keep your food frozen and safe to eat for up to two-and-a-half-days.2
If you want more information about how to prepare for blackouts and other emergencies, then the Australian Red Cross has a wealth of information. But if you'd rather avoid blackouts entirely, then Plico can help you switch to solar. For a low, one-off membership fee and an affordable weekly fee, our members get a fully maintained solar panel and battery system without the upfront costs. Contact Plico on 1300 175 426 or request a call from us to find out more.

1. The Mandarin. May 2021. WA sets sights on low carbon economy as it winds up energy taskforce. [online]. Available at: https://www.themandarin.com.au/157566-wa-sets-sights-on-low-carbon-economy-as-it-winds-up-energy-taskforce/
2. The Food Safety Information Council. 2021. When the power goes off. [online]. Available at: https://foodsafety.asn.au/when-the-power-goes-off/
Have a question about solar + battery?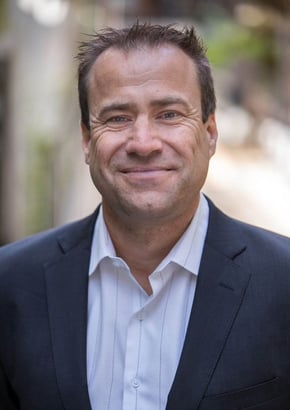 Brian Innes
The visionary behind Plico Energy. Brian was frustrated by the lack of action on climate change, and decided that the time for action was now. With a background in renewable energy, Brian launched the Plico Energy Project to enable households to take action and create a positive change.