Western Australian (WA) clean energy company, Plico, will support power system security through summer by providing additional capacity, via its Virtual Power Plant (VPP), during emergency peak demand periods, and to counteract potential household blackouts this summer.
This important milestone marks WA's first live VPP, where hundreds of Plico systems, through cutting edge technology, will act as one giant battery to export energy to the grid when required.
The system operator, AEMO, identified a potential reserve shortfall in WA's main power system over summer and has sought additional capacity from energy providers to cover this shortfall. Plico is contracted to provide additional capacity to the grid during emergency peak demand periods.
The growing Plico Fleet currently has an aggregated battery of 8 MWh and will make as much of this capacity available to the WA grid. This is one of the most significant contributions ever made by an activated VPP aggregator (outside of trials) to the energy market across Australia.
It's well known that capacity in the WA grid is under pressure due to declining coal production and the temporary closure of some coal-fired power plants. Last month the State Government announced the possibility of importing coal to keep the power on during summer.
Plico CEO, Mr Robbie Campbell said the last thing anyone wants are households without power.
"Summer conditions challenge the power system, especially during periods of extended and extreme weather. To avoid disruptions to homes during such events, we have been developing a solution – and it's a clean energy solution," Mr Campbell said.
"We've been tasked to activate our VPP through our Plico customer batteries. This means, if demand on the grid is projected to exceed capacity on a given day, AEMO will direct us to activate the Plico VPP. This will trigger a series of events," he said.
"We will assume control of our customers' batteries remotely and set them to store energy during the day, so they can export energy back to the grid later in the day when it's needed most. As directed by AEMO, Plico batteries will then be set to discharge directly to the grid for a period of up to two hours, between 5pm and 9pm," Mr Campbell said.
"If an event occurs, we will also look after our Plico customers, we will pay them double their cost for the energy stored in their battery, and for any energy they may have purchased from the grid during the activation. So, it's a win for our forward-thinking customers, a win for the state, and our planet," Mr Campbell said.
"We're not sure how many activations may occur, but we are prepared for any emergency and have been testing our VPP for the last month," he added.
"Frankly, this is an exciting time for our team and for WA. To be called upon to be part of a fundamental solution to powering our state and help support the transition to clean energy and reach Net Zero – it's thrilling. To demonstrate what our VPP can do with solar and batteries throughout the state," Mr Campbell said.
"In a world where we demand action on climate change and being less reliant on fossil fuels, this is an opportunity to use our WA sunlight better by implementing our VPP," he added.
"I couldn't be prouder; this is exactly what we've been working towards since our inception in 2019. To have our Plico battery systems helping during peak demand periods, so no home on the grid goes without power. Imagine what would be possible if every home had a Plico solar and battery system," Mr Campbell said.
The Plico VPP is supported by Redback Technologies, creators of the innovative Smart Hybrid Inverter technology used in Plico systems, and Amp X who provides their proprietary VPP digital energy platform to enable monitor, control and optimized dispatch of Plico's systems.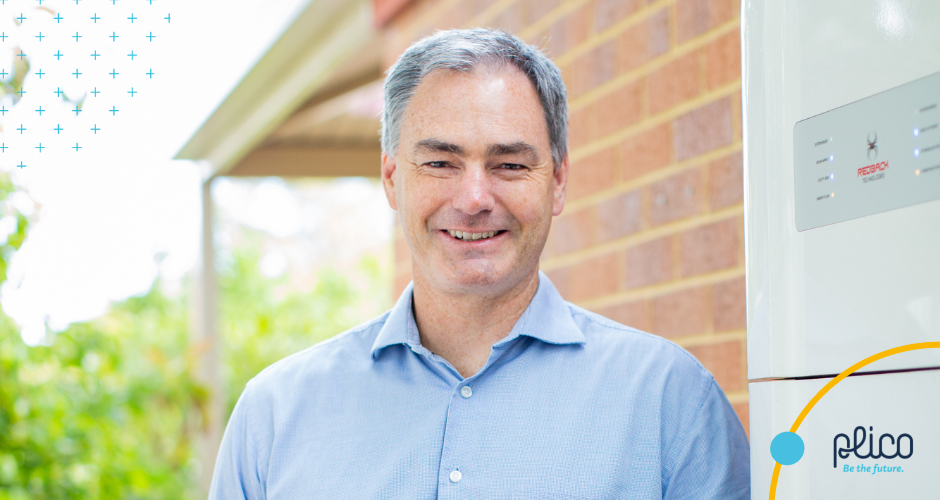 Robbie Campbell, Plico CEO
ABOUT AEMO
AEMO manages electricity and gas systems and markets across Australia, helping to ensure Australians have access to affordable, secure and reliable energy. AEMO requested expressions of interest from suppliers in supporting the grid during summer.


Have a question about solar + battery?