Here at Plico, we are committed to achieving optimal performance across our community network of Solar Battery Systems.
In 2020/21, we exceeded our Key Performance Indicators (KPIs) for solar performance. That means that our aggregated network of systems produced clean, green energy from the sun to a standard that met the expectations of our Members and our partners.
Our target across the financial year is to generate an average of 20 kWh per day. That is an average of all of our systems spread from Geraldton to Esperance. We achieved an average of 24.7 kWh per day - great news for our Members and the environment!
The chart below shows when our systems are performing best, in spring and summer, and when this tapers off in the cooler months. The factors impacting solar performance include cloud cover, position of the panels, shading from trees and other buildings, dust and age of the solar panels. Communication with the system is also essential so that we can track solar performance.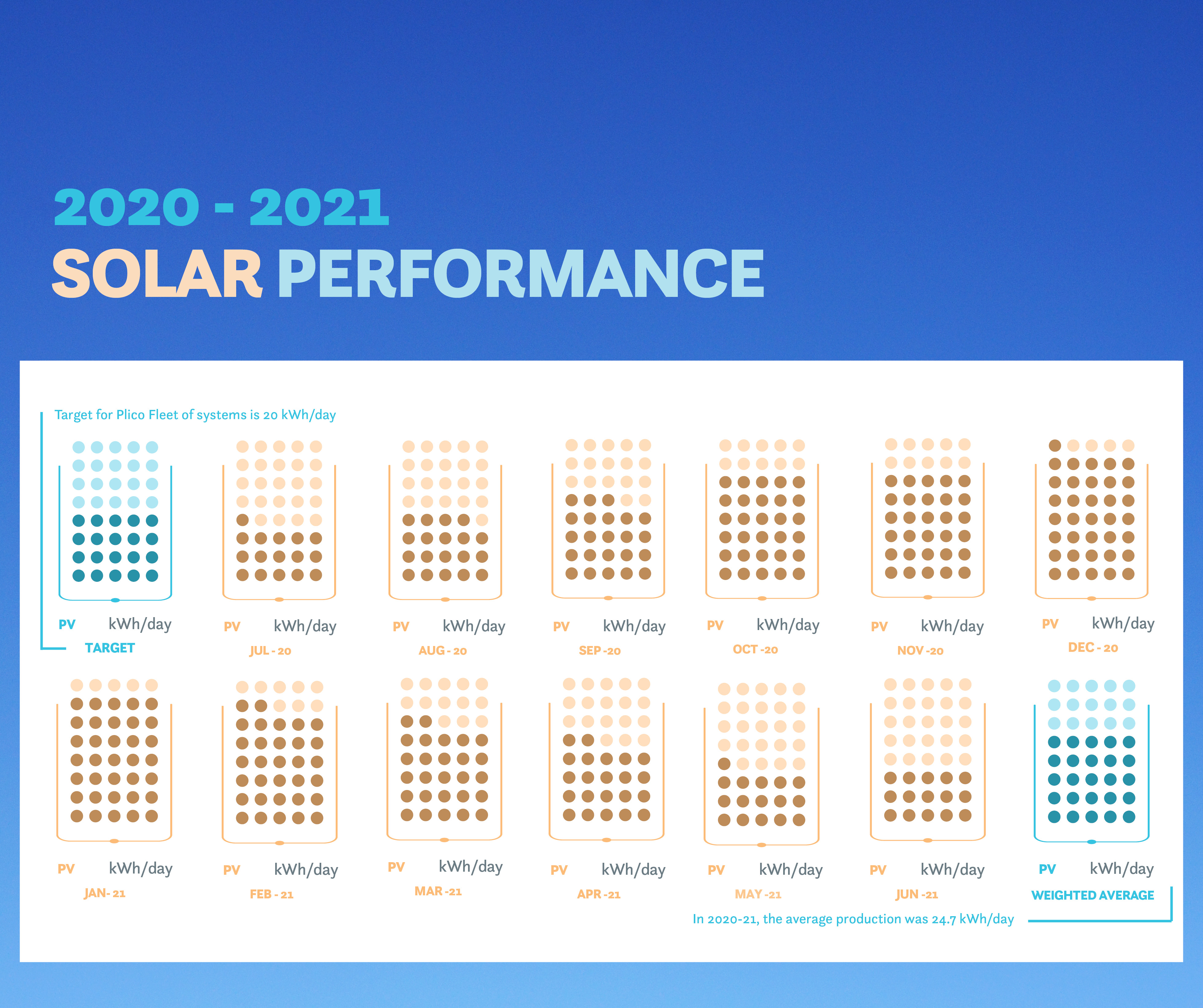 Any Members who have questions about the performance of their system can get in touch with our team at connect@plicoenergy.com.au.
Plico fleet performance
Some of the other achievements of the Plico fleet are highlighted in the DCEP Inc. Annual Report, which was launched at the AGM in September.
Our aggregated network of Solar Battery Systems produced an incredible 1512 MWh, exported 630 MWh back to the grid and our battery storage increased by 1.4 MWh to 2.8 MWh. Importantly, we also reduced carbon emissions by over 3000 tonnes.

Plico Members are part of the largest community energy project in the state and through DCEP that success is being shared with the wider community to build a more sustainable future.
Find out more about the achievements of DCEP and Plico in the DCEP Inc. Annual Report.
For more information on how Plico can help you reduce your carbon footprint, generate and control your own power, day or night, contact us or speak to one of our friendly team members on 1300 175 426.


Have a question about solar + battery?